04-22-2022: Lone Star Outdoor News by Lone Star Outdoor News - Issuu

04-18-2022: You Can Call Him 'Big Bass Randy': Howell Makes History By Landing Two Giants by: Brent Frazee
So, how does it feel to catch a giant bass…on back-to-back days?

We talked to Randy Howell, a pro bass fisherman from Guntersville, Ala., to find out. He has quite a story about the events of February 2022 when he accomplished what may never be matched in a Major League Fishing Bass Pro Tour event.
You always hear about fishermen who land giant bass during practice for a tournament, not the actual days of competition. But Howell caught his bass when it counted. He caught his personal-best bass one day. Then he went out the next day and caught one even bigger. And get this: He didn't even win.
Howell will detail his record-setting tournament, talk about what turned out to be his good-luck charm, cast out some fishing tips, and talk about the charity he and his wife Robin support.
So, settle into your easy chair and live vicariously through a pro bass fisherman who experienced a dream week.
02-18-2022: Top 10 Musky Lures of 2022 by: Steven Paul
Top 10 Musky Lures for 2022 - #1: Livingston Lures Titan
The Titan from Livingston Lures hands down takes the top spot for the best new musky lure of 2022. Dive and rise lures have been a staple of musky fishing for decades but have changed very little to keep up with new rods, reels or modern musky angling tactics. The Titan was designed to work with modern gear while taking the painful learning curve out of fishing dive and rise jerk baits.
The Titan has a unique line tie that self corrects preventing fouling and keeps the lure running perfectly in tune throughout the cast. The Titan also allows anglers to fish in a reel stop fashion by simply turning the reel handle, something traditional dive and rise baits simply can not do. Livingston Lures did every musky angler a favor by making the weight system for the Titan extremely versatile. Each Titan includes a shallow, mid, and deep weight allowing musky anglers to change their dive and rise rate with no modifications or guesswork.
The Titan has finally modernized musky dive and rise baits and taken them to a whole new level. No more tweaking, no more tuning just tie on the Titan and start catching trophy class musky.
12-15-2021: Livingston Lures Welcomes Tucker Smith to Pro Angler Team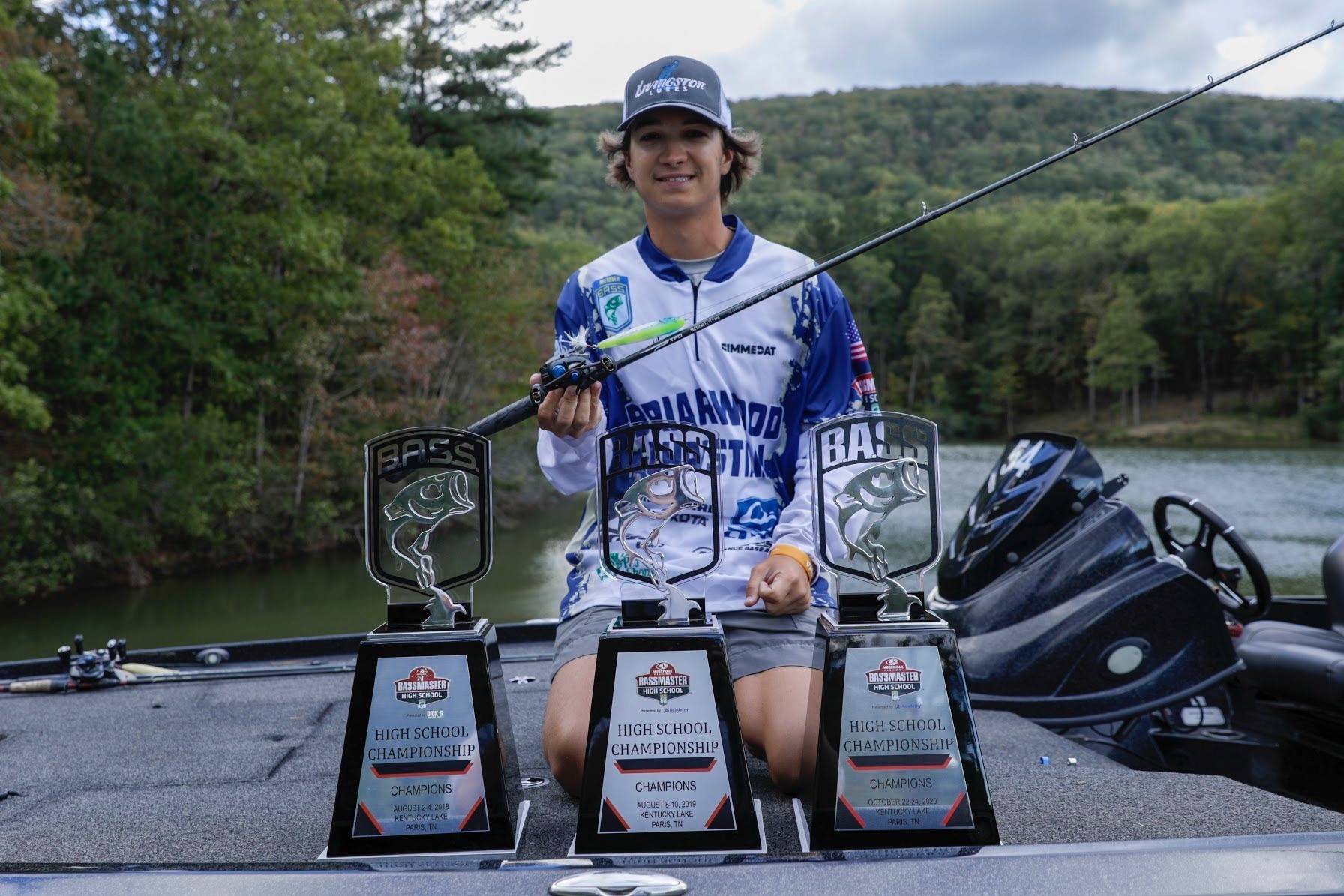 Tucker Smith officially joins the Livingston Lures Pro Angler Team during his meteoric rise to bass fishing fame. Smith, a 20-year-old student at Auburn University, hails from Shoal Creek, Alabama, and already has several Championship Tournaments under his belt. Livingston Lures recognizes Smith's passion and energy for bass fishing and is excited to partner with this rising star.
Despite his young age, Tucker Smith has racked up a string of wins beginning with the Bassmaster High School National Championships. Smith's Briarwood Christian High School team took home winning trophies from 2018-2020. Since joining the fishing program at Auburn University, Smith has added not only being named as one half of the Carhartt Bassmaster College Series Team of the Year, but also winning Bass Pro Shops U.S. National Bass Fishing Amateur Team Champion, besting 350 teams to split the biggest payout in bass fishing history: 1 million dollars, 2022 Toyota Tundras, and Nitro Z21 Bass Boats.
"I am so blessed to be a part of the Livingston Lures team! The thing I love most about this company is that this isn't just a sponsorship, it's a partnership. Livingston Lures believed in me from the beginning and I am truly grateful to be part of the team." ~Tucker Smith
Tucker Smith joins the ranks of our Professional Anglers on the Livingston Lures Pro Angler Team. Through this partnership, we at Livingston Lures hope to provide Smith with the advantage he needs to continue his future college and professional bass fishing championship career.
12-13-2021: US Open Recap
LAKER HOWELL:
We started ever day with cranking wind blown points, throughout practice we realized it was gonna be a wind chasing event for us and thats what we stuck to. The diablo was a fairly key bait, after the wind would die we would run a topwater pattern looking for one big bite a day and thats what we got. All in all it was a tough evening but we made the most of it and made it work.
TUCKER SMITH :
We recently just won Bass Pro Shops US Open. The first two days of the tournament were pretty sunny. The Livingston Jigging Spoon really seems to shine when it's sunny. It gets down to the fish quick and triggers bites. Final day was cloudy, so we used different techniques to catch them. The Jigging Spoon is a killer.
12-03-2021: WorkBoat Canada Show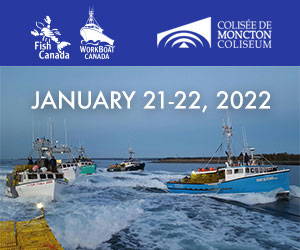 SHOW LOCATION:
Moncton Coliseum Complex
377 Killam Drive
Moncton NB E1C 3T1
Telephone: 506-389-5989
11-05-2021: Boat Giveaway!

This is the 11th anniversary of our Kings Home boat giveaway November 13th, and we don't want you to miss your opportunity to WIN my boat!
At the bottom of this message you will see the link to donate for your tickets for the boat giveaway on Nov 13th.
King's Home is an independent, faith based ministry that operates 21 group homes on 6 campuses across 4 counties in Alabama, serving kids, teens and women with children.
All residents of Kings Home have suffered severe abuse, abandonment, and neglect. The operating budget at King's Home is very dependent on private donations, and that's why this boat giveaway is so important! This has become the largest fundraiser of the year for these kids, teens, and ladies homes, and they appreciate your help so much!!
This years boat is my 2021 Triton 21-TRX Elite with a Mercury 250 Pro-XS 4stroke engine. It's loaded with 3 Lowrance HDS live units, one 16 and two 12's on Boatlogix mounts, Lowrance Ghost troll Mtr, Gatorguard Keelshield, T-H marine Atlas HD hydraulic Jackplate,
2- Blue 8'Power-pole blades, Custom Bluewater LED lighting package on boat and trailer, 3 Impulse lithium batteries, Power-pole Charge system, T-H marine Hydrowave and accessories, stainless steel fenders and 17" Triton custom wheel package with General tires. Retail value of over $87,000!!
Tickets are tax deductible and $100 each. There are NO limits on the number of ticket donations you can make, and you DO NOT have to be present to win. Ticket donations will be taken until 12pm Central on Saturday Nov.13th on Kingshome.com/randyhowell
The ticket drawing will be live-streamed from the stage on Facebook.com/randyhowellfishing at 2pm central time, Saturday November 13th!
Follow the link below to donate online, or call the King's Home office at 205-678-8331 to get your tickets.
Please share this link at the bottom of the page with your friends, and thanks again for your donations.
Together WE can make a difference!!
God bless!
Randy Howell
11-03-2021: Livingston Lures Anglers Qualify!
On November 19th-21st is the first US Open Amateur Team Championships. Three of our Livingston Lures Anglers qualified for the final $1 Million dollar prize!
CONGRATULATIONS!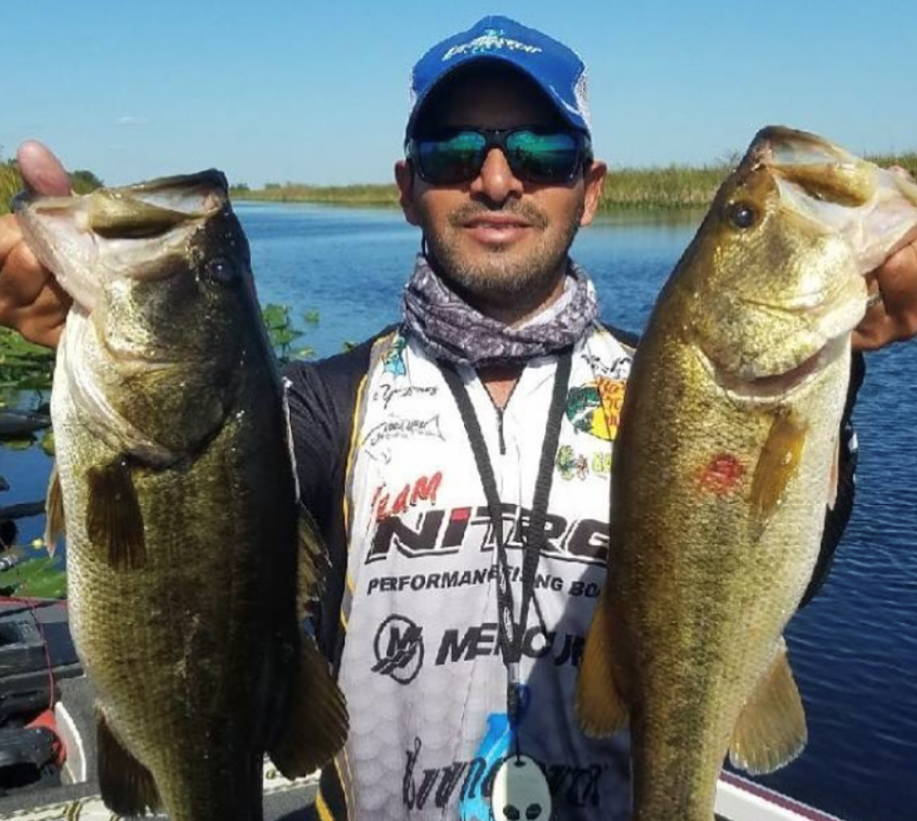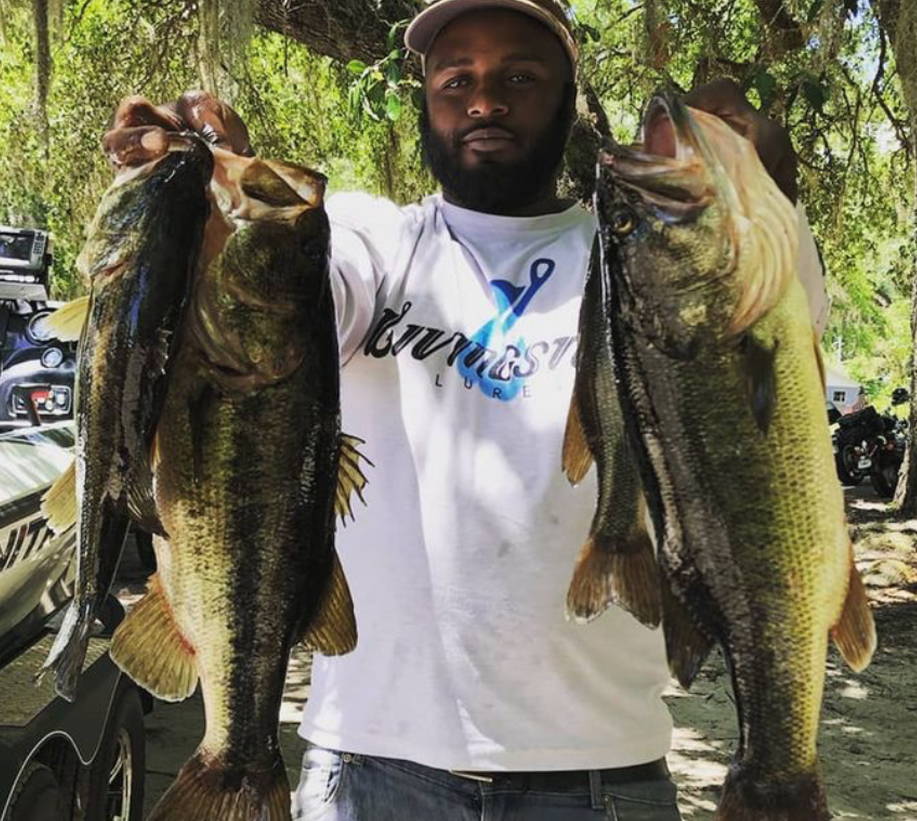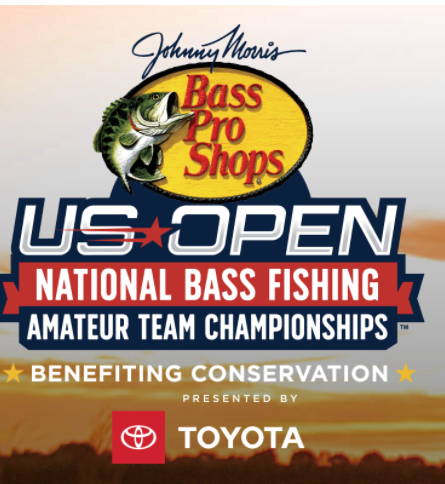 10-26-2021: Press Release - New Products Coming Soon...
When noted musky pro-Pete Maina talks big predator fish anglers listen, and they should considering the thousands of giant muskies, pike, bass, walleyes, and other predators that have visited his boat. Pete talks big fish regularly on television, social media, radio, and more, and is a superstar seminar speaker, writer, and muskie angler. He's well known for his lure design innovation and has introduced dozens of popular baits.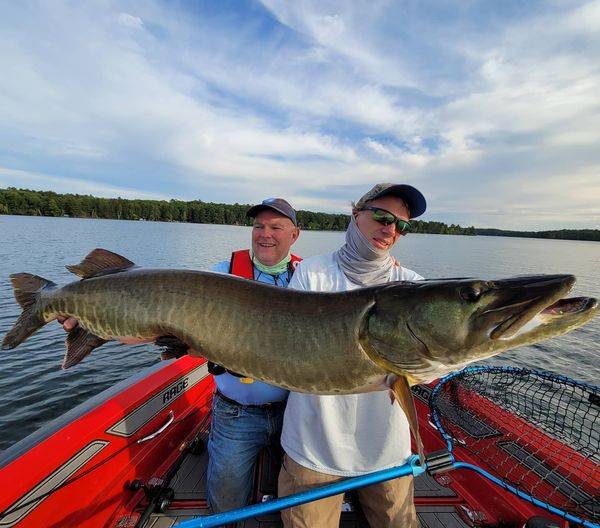 When legendary guide Steve Herbeck talks predators, anglers drop what they are doing and snap-to. Herbeck, aka Herbie, boats more giant muskies in a single season than most anglers would in multiple lifetimes and is considered one of the top freshwater anglers of all time. He also loves to tinker with lures and make them better fish producers.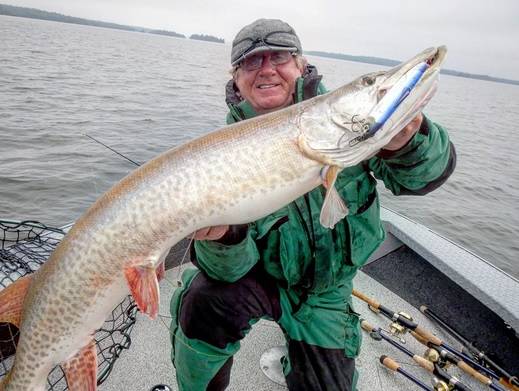 Well here's one for you, they BOTH are talking (and are really excited) about Livingston Lures new 2021/22 additions, the Sweet Talker and Flipper. Livingston Lures listens to these two, and they collaborated to create a couple of new fish-catching monsters.
Listen In:
Pete: "The Flipper evolved into a unique combination of the very successful shallow Livingston Lures crankbait/jerk bait 10″ long platform called the Jerk Master, just shortened a bit. We then added a specially designed rise and dive jerk bait metal tail. The new design creates an action, unlike any jerk bait I've ever used. The slow rise version had an unpredictable sliding, gliding, momentary suspending movement with a vertical/horizontal wobble followed by a very slow hang time rise on the pause. During this critical pause/ hang time the sweet-talking of the EBS electronic baitfish sounds is proving to be a wildly effective combination!"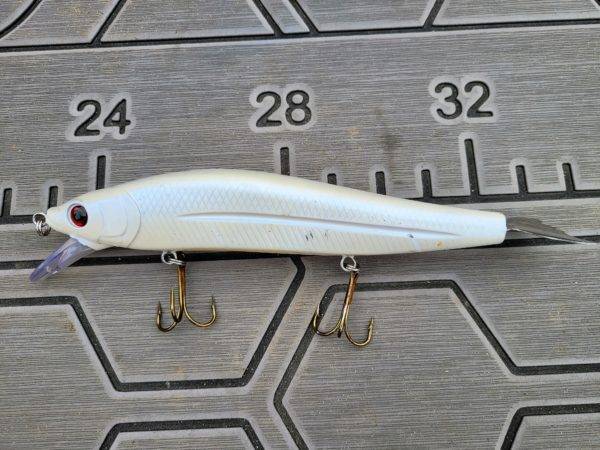 "The Livingston Lures Sweet Talker is arguably the most versatile bass and other predator fish style lure you can tie on throughout the season if you want more big fish in your net. Understanding with certainty that fish are attracted to sound – and especially-so biologically recorded baitfish sounds -it's exciting that the only jig with EBS attraction has hit the market! The Sweet Talker can be rigged weedless, punched through cover, and used in a variety of presentations, but the single biggest difference is the natural sounds, especially when sitting still on the bottom talking to that fish. During a tough bite, let the fish come to you!"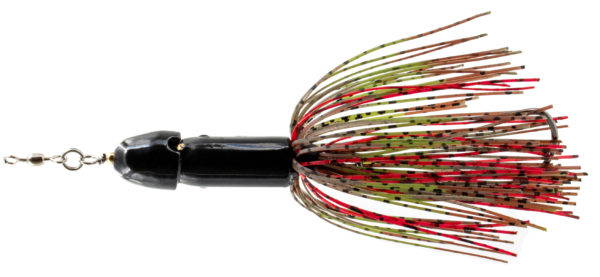 Hmmm, EBS. What's that, exactly?
All Livingston Lures feature Electronic Baitfish Sounds (EBS™) embedded on a smart chip in the internal sound chamber of each lure. Listen to the clip below to hear one of our many sounds! Livingston Lures EBS Technology™ electronically replicates the actual biological sounds made by baitfish in distress or a feeding frenzy. Scientific studies at Texas State University have proven that fish use both audible and perception to track and attack prey. Natural sounds from our EBS are detected from outside visual range, doubling the effective strike zone over traditional lures.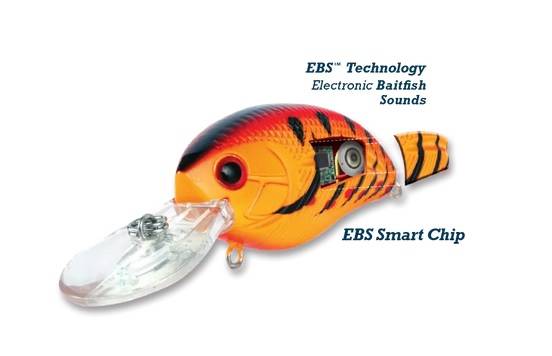 EBS Audio Example, click here!
So what does Herbie have to say? When he's not chasing big muskies, he's thinking about how he can put more big muskies in the net.

"The Sweet Talker is another 'Herbie' late nite brainstorm, Livingston Lures new version of the bass fisherman's first pick and all anglers most versatile, productive big fish lure of choice: the jig. The Sweet Talker's unique profile allows it to easily punch through cover, jig, and slither through and around bottom cover and structure while also offering a natural baitfish profile when used as a swimbait.
The big wide gap hook can be rigged weedless and accommodates a wide variety of plastic trailers with plenty of big bite left. It's jointed attachment to the head allows movement both vertically and horizontally providing a great belly roll when used as a swimbait with paddle tails and twisters and when used as a jig with a creature or a floating craw, which sits in a natural claws up defensive posture while the EBS electric baitfish sounds technology is singing crawdad feeding songs. The EBS really 'does its thing' and reaches full potential vs baits with rattles, joints, and hooks clanging. And when paused? Deadly! A combination unlike any other jig today."
OK Herbie, what about the Flipper?
"The Flipper evolved into a unique combination of the very successful shallow Livingston Lures crankbait/jerk bait platform called the "jerk master," shortened a bit. We then added a specially designed rise and dive jerk bait metal tail!
The combination creates an action, unlike any jerk bait I've ever used. The slow rise version had an unpredictable sliding, gliding, momentary suspending movement with a vertical/horizontal wobble followed by a very slow hangtime rise on a pause. During this critical pause/ hang time the sweet-talking of the EBS electronic baitfish sounds is proving to be a wildly effective combination.
The Flipper transforms from the standard jerk bait retrieve to a smooth boat side maneuver through the oval or figure eight, morphing into a wobbling crankbait. That transition and change in action is also proving to be a consistent trigger putting numerous fish in the net for me."
Watch for these and more innovative lures on the Livingston Lures website, and follow Livingston Lures, Pete Maina, and Steve Herbeck on social media!
10-23-2021: Congratulations Laker Howell
CONGRATULATIONS Laker Howell on qualifying for the All American tournament. Laker received 6th place out of 173. Incredible week!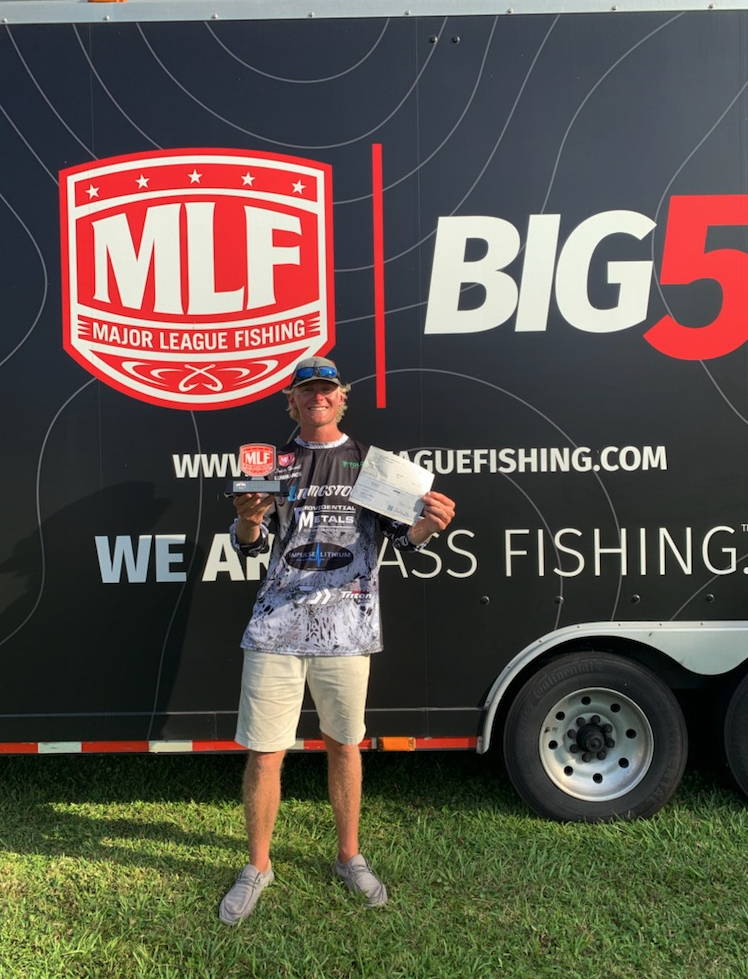 Peter Miller Teams Up with Livingston Lures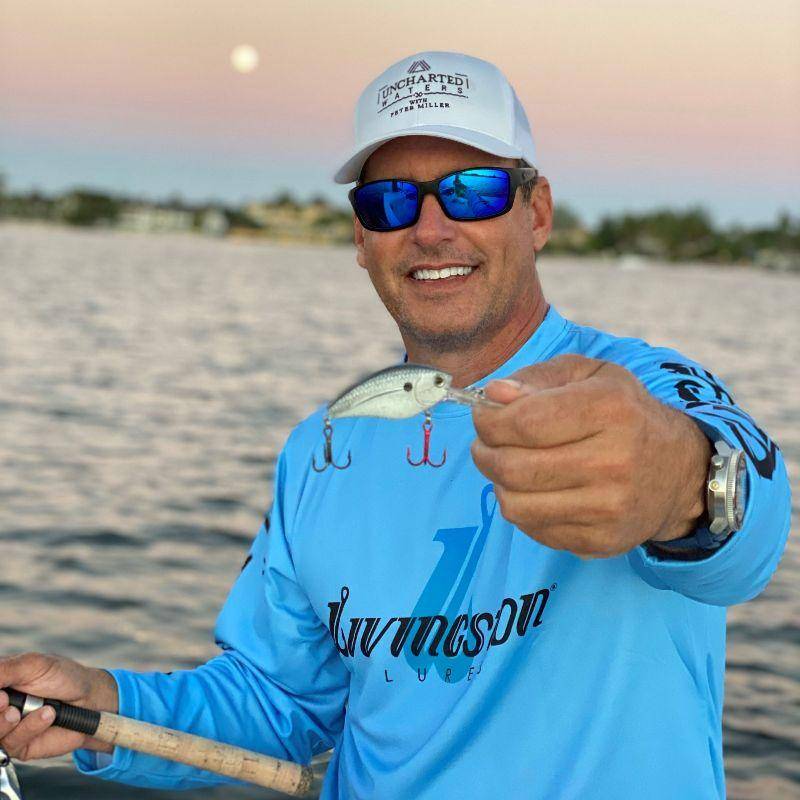 Livingston Lures is proud to announce their partnership withEmmy nominated television host of Unchartered Waters and seven-time 7 Telly award winner producer, philanthropist, professional angler and three time-worldSailfish Champion Peter Miller.
Peter is well known for his nationally televised show called Bass2Billsfish with Peter Miller and producing music videos for Pit Bull. He has appeared in Monster Audio TV commercials, and he has also worked alongside LeBron James, Christian Slater, Ice Cube, Patrick Dempsey, Kevin Hart and Arnold Schwarzenegger on various projects. A passionate environmentalist and conservationist, Peter is actively involved with the Everglade Foundation, Captains for Clean Water, theInternational Game Fish Association, and the Florida Fish and WildlifeConservation Commission. His professional demeanor, values, and ethics can also be seen in his involvement with Wounded Vets, Make a Wish Foundation and the National Down Syndrome Society.
Peter's expertise and talent will not only help educate anglers but promote Livingston Lures through his involvement in R & D.
"I am really excited to be a part of the Livingston Lures Family! I have never partnered with a lure manufacturer before […]. Livingston Lures are complete with acoustics, audio waves, and even some lights. I am excited to make the move and join forces with LivingstonLures. They are a cutting edge company that is always striving to create new, innovative products and really listen to anglers and their needs. Their fresh approach and well-run company makes it the perfect partnership for me. I am really excited and can't wait to begin using all of their high end products. I just happened to catch the biggest kingfish of my career (50lbs) last week while using their heavy duty #Boss Wahoo lure, while trolling it in Bahamas during the filming of my show, "Uncharted Waters with Peter Miller", airing on the DiscoveryChannel this March-June and also streaming on Discovery GO, Amazon Prime and re-airing on the World Fishing Network in Q3-Q4" -Pete Miller
We are thrilled and excited to welcome Peter Miller to theLivingston Lures family and look forward to him sharing his knowledge with our customers and outdoor enthusiasts.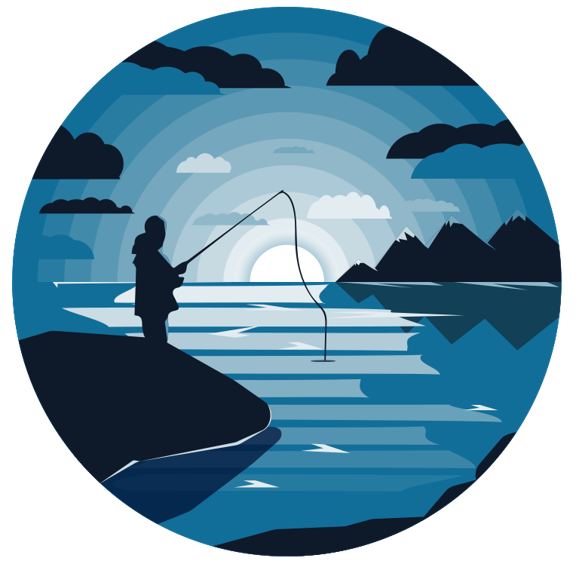 For early access to our new collections, promotions & much more.